used bikes

Price: $2,100  Now 1,400
 2 Remaining
Available Sizes: 1 Small, 1 Medium
Boosting off roots, snapping out of corners, tackling steep drops: do it all with confidence on Giant's Trance 27.5 3. Up and down the mountain, the ALUXX SL aluminum frame is light and stiff to get up and go, while the Maestro rear suspension along with RockShox Monarch R shock deliver 140mm of bump-swallowing travel that lets you float over rock gardens. Up front, a RockShox Sektor Gold RL leads the charge with 140mm of forgiving travel on chattery trails or big hits. Speaking of charging forward, the wide-ranging Shimano Deore 2×10 drivetrain keeps you going with quick, smooth shifts every time. And when it comes time to dive hard into the switchbacks, Giant's 27.5-inch wheels respond with agility while the Schwalbe tires bite into terra firma and Shimano discs scrub speed reliably.
Price: Was $2,840  NOW $1,400
Available Sizes: 19′, 21′, 23′
The days of compromising between agility, travel, and speed are over, meet Trek's Remedy 7 29. The aluminum frame proudly boasts Trek's Full Floater and ABP suspension that pedals and climbs efficiently yet absolutely crushes the descents. The combo of 29-inch wheels and 140mm of suspension makes you an unstoppable force, backed up by a Revelation RL up front and a Fox Float DRCV in the back. Rounding out this great foundation is a quick-shifting Shimano drivetrain and discs, Bontrager wheels, and a Bonty bar, post, stem and seat. Forget compromise, the answer is the Remedy.
Price: $1,870 Now $1,000
4 Remain
Available Sizes: 15.5′, 17.5′, 19.5′, 21.5′
From scorched sand dunes to winter white outs, and everything in between, Trek's Farley takes you to places few bikes dare to go. Let's not pigeonhole this big boy, it's just as fast and fun when the sun is out on your local trails. Thanks to a tapered head tube, Closed Covert rear through axle and a dialed geometry, the Farley is a sharp handling, steam-rolling monster truck of a bike. Trek was thinking versatility, so you've got front/rear rack compatibility, fender mounts, and internal cable and dropper post routing for when the terrain gets really hairy. A 2×10 drivetrain powers the 3.8-inch tires and a host of Bontrager components rounds out the spec. All-season adventure begins with Farley.
Price: $2,500   Now $1,600
Available Size: xs, s
Hop on Liv's Lust 2 and get ready for the ride of a lifetime! This aluminum XC rig boasts Giant's Maestro rear suspension and a Fox Float CTD shock to tame rough terrain, while fast-rolling 27.5-inch wheels glide over tough obstacles. A tapered OverDrive steerer and 15mm thru-axle on the 100mm-travel Fox 32 Float fork ensure a true-tracking front end to tame even challenging terrain. A Shimano 2×10-speed drivetrain keeps pedaling smooth and easy, with its light shifting action and precise gear changes. Liv's women's-specific geometry provides a fit and comfort level that is unbeatable, and the Giant Contact components only add to the experience. Other awesome components include Shimano hydraulic brakes, Schwalbe tires, and a supportive Liv women's-specific saddle.
Price: $4899  Now $2,400  2 Remaining
Available Sizes: 2- Medium
Built for the spinning globe of terrain changes under your wheels, Devinci's new Spartan comes battle equipped. From Devinci Enduro racing storming the international Enduro race circuit to backyard bike park sessions, Spartan rolls in on full-suspension 27.5-inch Split-Pivot credentials—in both aluminum and carbon builds, with ample 165mm rear and 160mm fork travel. Spartan DMC-G carbon frames feature Devinci's advanced EPS Molding for flawless form consistency and lighter, stiffer, stronger performance. While amped frame rigidity makes Spartan an upslope annihilator and bolsters downhill precision for pinning it across turbulent terra firma. Devinci Spartan. Hammer the throttle and launch the gap between freeride adventure and the exploding world of Enduro racing today.
Price: $3,410 New 2,000 
Available Sizes: 2-small
Featuring 160mm of smooth and active Maestro suspension travel, an ALUXX SL aluminum frameset, and cutting-edge 27.5 wheel technology, Reign 27.5 shines brightest when the trail gets rowdy. It's strong enough to tame aggressive terrain and efficient enough to conquer climbs with ease. Stable geometry, a tapered OverDrive steerer tube design and air or coil shock-compatible shock mounts make Reign 27.5 the choice for aggressive trail riding and enduro racing.
Price: $3,200  NOW $1600
Available Size: All Sizes
Fly through roots, rock gardens and ruts, nail every line. The Glory 2 is a proven DH machine gives you the confidence to attack. When you're charging through rocks, roots and ruts at top speeds, you need to stay on your game. With 200mm of fully active Maestro Suspension and a lightweight, super-strong ALUXX SL frame featuring a co-pivot shock mount, the Glory 27.5 has been tested and proven by some of the top DH racers and gravity riders in the world.. The frame is engineered with geometry that's optimized for its 27.5 wheels, plus a super stiff OverDrive steerer tube for unwavering control and steering precision. Glory helps you boost your confidence and increase your speed on fast, technical DH terrain.
Was: $2,149.99 NOW $2,400
Available Sizes: 1- Small 2-Medium 1- Large
With piles of World Cup podiums under its chassis, the Wilson is a weapon to be reckoned with. Commandeered by DGR elites like Steve Smith, Mark Wallace, and Brage Vestavik, Devinci's flagship DH ride features an advanced aluminum front triangle synergized with a rear carbon build powered by EPS molded frame tech for lighter, stiffer, stronger performance. Wilson's asymmetrical construction improves torsional stiffness. Hard-charging carbon seat stay bolster pedal power out of the start gate and across the flats. And the ever-agile Split-Pivot suspension system, with new shock positioning that bucks mud and lowers center of gravity, makes easy work of boulder gardens and wickedly steep terrain. Wilson DH. Fierce by nature. A force by design.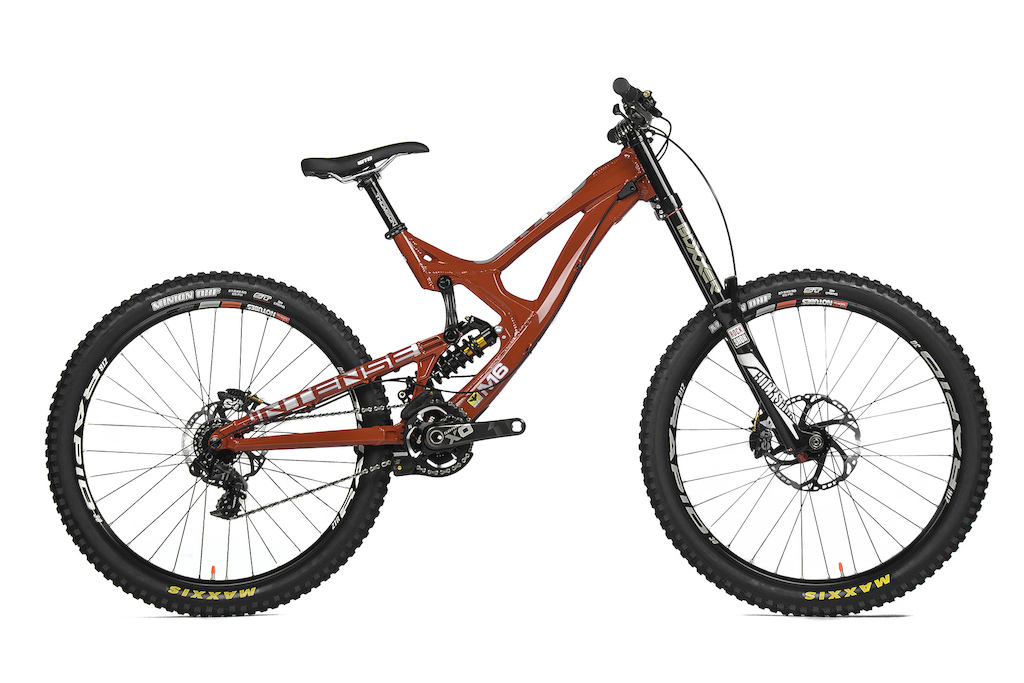 Price: Was $3,800 Now $2,500
Available Sizes: 1-Medium 1-Large
The Intense M16A Pro Build is a pure performance machine with a World Cup pedigree. It has been known to shred some of the toughest runs on the World Cup DH circuit, so just imagine what this thing will do on your local terrain. Intense refined, tuned, and chiseled the M16A for absolute speed in the hands of those aiming to dominate. This king of the downhill circuit is constructed from a hydroformed aluminum frame and has 215-240mm of precision suspension that sucks up everything from braking bumps to high-speed G-outs to gigantic drops. Up front, the RockShox Boxxer World Cup fork offers 200mm of root and rock destroying suspension, while the crisp SRAM X01 DH shifting gets you through the pedally sections. Polishing off the build are Stan's NoTubes Rapid 30 wheels and a quality Renthal cockpit. Intense was the pioneer of downhill racing bikes—and the M16 is the new standard.